When:
May 11, 2021 @ 1:30 pm – 4:30 pm
2021-05-11T13:30:00+10:00
2021-05-11T16:30:00+10:00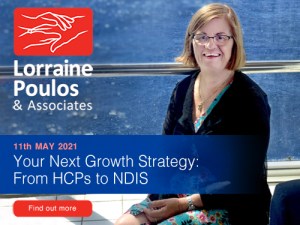 Recognise your expertise in supporting people living at home
Over time, your organisation has developed considerable competence, expertise, infrastructure and systems to support people to live independently at home. Your organisation also has an establishing reputation and community profile in home care. We can guide you through the process of building upon what you have in place to take on NDIS participants. There will be challenges and barriers, but our webinar will show you what to expect and how to overcome issues so everything is 'work-out-able'.
The webinar will include information and practical tips about:
✔ Similarities and differences between HCPs and NDIS program requirements
✔ Assessing the suitability and readiness of your service for NDIS
✔ Key success factors of running an NDIS service
✔ Assessing NDIS fit with your service's vision, mission and values
✔ Key components of a business case for your governing body
✔ Establishing an internal communication strategy that builds support
✔ Consultation with your community to ascertain need and demand
✔ Conducting a competitor analysis
✔ Key components of a business case for your governing body
✔ Develop a step-by-step process for application and a timeframe
✔ Submitting a convincing application supported by persuasive evidence