When:
December 6, 2022 @ 1:00 pm – December 7, 2022 @ 4:00 pm
2022-12-06T13:00:00+11:00
2022-12-07T16:00:00+11:00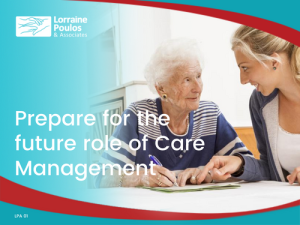 Why is Clincal Care/Case Management important?
Clinical care management is an essential key component of every Home Care Package.  It ensures clients receive the appropriate level of support in a way that meets their current and future care needs. It should ensure there is no overlap, over-servicing, or mismanagement of services. Case management is a process focused on the coordination, reablement, care, and support of people with complex, clinical needs. It aims to facilitate independence and improve the quality of life of clients.
Case management seeks to maximise the health, safety, and wellbeing of clients. It also enables coordination with multiple providers, connection to assistance outside of aged care, clinical oversight and coordinator with the health system, and conduct check-ins. The Government has announced the 'Support at Home Program' (commencing July 2023), care management would be included as a service type. Care Management would be offered to senior Australians who have a more complex mix of services and need oversight and coordination of their care.
Care/Case management may include:
Reviewing a Home Care Agreement and Care Plan
Coordination and scheduling of services
Ensuring your care is aligned with other supports
The Royal Commission into Aged Care Quality and Safety made several recommendations highlighting the importance and role of case/care management in-home care.  In Particular, Recommendation 31 Approved provider's responsibility for care management recommends a number of improvements to case/care management, and the Government has accepted this recommendation and agreed with the implementation date of July 2022.
Overview
This six-module course will equip you in your role as a case/care manager to conduct an independent assessment of clients, with a holistic, goal-oriented, wellness and reablement focus. This course has been aligned with units of competency for the National Skills set -Case Management Skills. It consists of theory and practical application of learning in the workplace.
It includes pre-reading, case studies, and extensive resources. The modules include assessment, care planning, goal setting, case conferencing, documentation; monitoring of consumer changes. The training includes competency testing via an interactive learning style. The training has been modified for the home care environment to ensure practical examples of how learning can be translated into practice.
Learning Outcomes
By the end of this webinar course, you will be able to: 
✔ Define the role a case/care manager
✔ Advocate for clients
✔ Conduct interviews and assessments
✔ Set goals with the client
✔ Develop care plans
✔ Communicate with clients and families/representatives
✔ Apply cultural sensitivity
✔ Complete the correct documentation
✔ Explain the financial impacts of case/care management
✔ Monitor the care plan to assess the effectiveness of interventions
✔ State the types of circumstances and triggers for reassessment
✔ Evaluate the progress against the goals
Recognition
All attendees will receive a Statement of Attendance upon completion of an assessment as evidence of Continuing Professional Development hours.
The course is aligned to the following units.  Participants seeking a qualification from a Registered Training Organisation may be eligible for recognition of prior learning.
CHCCS004 ASSESS CO-EXISTING NEEDS
CHCCSM004 COORDINATE COMPLEX CASE REQUIREMENTS
CHCCM005 DEVELOP, FACILITATE AND REVIEW ALL ASPECTS OF CASE MANAGEMENT
Who will benefit most from this course?
The course is suitable for those in a care/case management role (however titled such as Care Advisor, Care Coordinator).
Benefits to providers and consumers
This course is useful for providers who want to promote consistency of practice and continuity of care. It will also assist teams to understand how important their roles are in meeting quality standards, evidence consumer engagement; and understanding duty of care and how to better manage risks.
Date: The webinar is conducted over two sessions
6th December 2022 – Session 1
7th December 2022 – Session 2
Time Zone:
1.00pm – 4.00pm – New South Wales, Victoria, Tasmania, and the Australian Capital Territory
12noon – 3.00pm Queensland
12.30pm -3.30pm – South Australia
11.30 -2.30pm – Northern Territory
10.00am – 1.00pm – Western Australia
Inclusions
PDF of PowerPoint
Downloadable workbook
Downloadable tools and resources
Learner requirements
Computer or mobile device
A stable internet connection (broadband/4G+ recommended)
Speakers and a microphone are optional
Investment: $497 plus GST
Views of previous attendees
"Very helpful in positioning the role of Case Manager within an industry perspective, as well as giving practical advice on how to do the job." – Megan Barron (Aged Care Support Planner, St Carthage's Community Care)
"The knowledge gained from this training session has already helped immensely in the way I am writing care plans and goals, it has given me some excellent tools and I feel my case management of clients will greatly benefit from the training provided." – Sarah Eckles (Team Leader, BE)
Facilitators:
Lorraine Poulos – is a Registered Nurse, Grad Cert. Health Service Management, Fellow Case Management Society of Australia, Qualified Lead Auditor Quality Systems, Certificate 1V Workplace Training, and Education