When:
February 16, 2023 @ 9:00 am – February 17, 2023 @ 5:00 pm
2023-02-16T09:00:00+11:00
2023-02-17T17:00:00+11:00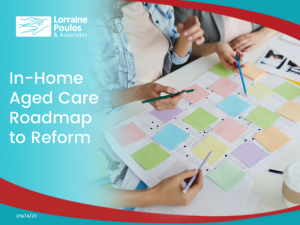 Overview
At the In-Home Aged Care and Governance Workshop, you will leave with a roadmap of practical strategies to competitively position and prepare your organisation for future changes.  You will gain a deeper understanding of the macro and micro home care operating environments, the reform changes, the In-Home Aged Care Program, as well as the risks and opportunities.  This workshop will assist you in navigating the complexities and identifying your priorities and equip you with the knowledge to plan effectively for a range of scenarios.
Learning Outcomes:
  Assess the Home Care landscape now and in the future.
  Undertake an environmental scan of the macro and micro-operating environments.
  Conduct a 'Readiness for Reform' assessment of your service.
  Position your service to maximise your strengths, exploit the opportunities, minimise the threats and overcome the weaknesses.
  Identify sustainable and innovative service delivery models of care.
  Plan for a range of scenarios and assess the financial impacts using key metrics and ratios.
  Develop a digital transformational strategy for home care.
  Determine the workforce capability requirements to align with your strategic direction.
  More…