When:
June 7, 2022 @ 1:00 pm – 4:00 pm
2022-06-07T13:00:00+10:00
2022-06-07T16:00:00+10:00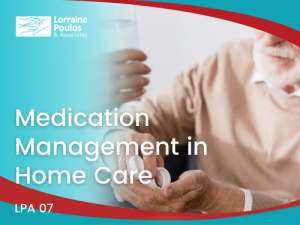 Overview
This course will clarify exactly what service needs to have in place to ensure can support consumers with safe and high-quality medication management. This includes defining the scope of practice for staff in relation to medication management. There will be a representative from Webstercare- Australia's leading medication management pharmacist.
This practical webinar has been designed to give you the knowledge and tools to package service offerings into relevant and attractive products for Home Care Package consumers. The course will cover excluded and included items in HCPs; the importance of a self-directed framework, linking assessment domains to care provision, and how to ensure compliance with relevant standards and legislation.
The course consists of practical examples and extensive resources to assist you in implementing changes to your model.
Learning Outcomes
By the end of this webinar course, you will be able to:
Explain the key definitions, standards, guidelines and jurisdictional regulatory requirements.
Describe the training required to 'ASSIST' and/or 'DELIVER' medications.
Explain medication documentation and accountabilities.
Describe risk management and contingencies in medication management.
Discuss the use of dose administration aids (Webster packs) and strategies to establish support from the community pharmacist.