When:
September 29, 2023 @ 1:00 pm – 4:00 pm
2023-09-29T13:00:00+10:00
2023-09-29T16:00:00+10:00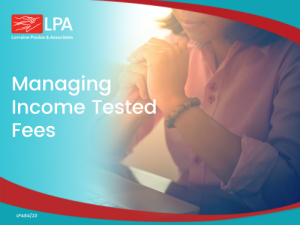 Overview
The objective of this training program is to provide home care service providers with a comprehensive understanding of income-tested fees in the context of home care services. Participants will gain knowledge of the regulations, processes, and considerations involved in managing income-tested fees and approaches that can be taken to support consumers to better understand Income Tested Fees.
Learning Outcomes
By the end of this webinar course, you will be able to:
  Describe the Income Tested Fee process and applicable regulations and guidelines.
  Identify effective approaches for communicating the Income Tested Fee to consumers.
  Recognise ways of enabling consumers to resolve Income Tested Fee issues.
  Understand the implication for providers of 'waiving" or not collecting Income Tested Fees.
  Recognise ways to maximise collection of Income Tested Fees.