When:
November 15, 2022 @ 1:00 pm – 4:00 pm
2022-11-15T13:00:00+11:00
2022-11-15T16:00:00+11:00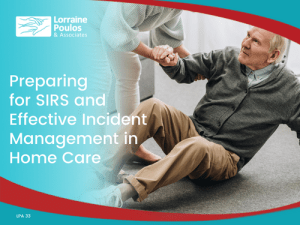 Overview
This webinar will equip your organisation to plan and implement a robust incident management system that will provide a sound foundation for meeting the requirements related to SIRS.   This webinar will give you a comprehensive guide to what you need to have in place and how you can prepare the workforce and your systems for SIRS. This webinar will also assist you to implement a system that provides useful data for quality improvement purposes.
By the end of this webinar course, you will be able to:
  Describe practical strategies to lead a culture of safety.
  Implement systems, policies and processes for responding to incidents/near-misses.
  Improve systems for internal/external SIRS reporting of incidents/near-misses.
  Develop processes for analysis, and trending of incidents/near-misses for continuous improvement.
  Determine appropriate corrective actions to minimise a reoccurrence.
  Implement systems to learn from incidents/near-misses, to improve your IMS, reduce the risk of harm and improve the quality and safety.