When:
August 16, 2022 @ 1:00 pm – 4:00 pm
2022-08-16T13:00:00+10:00
2022-08-16T16:00:00+10:00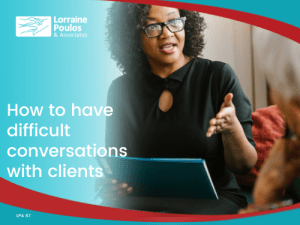 Overview
This webinar will explore how to prepare for, initiate, and have difficult conversations. There are many topics that can be challenging to approach such as declining health, end-of-life care, coming to terms with a serious diagnosis, sexuality, or the death of a loved one. You will come away from this webinar with the confidence to understand emotional responses and apply a range of strategies and techniques to tackle difficult topics.
Learning Outcomes
At the end of this webinar, you will be able to:
  Describe emotional responses experienced by consumers and the workforce.
  Define the 10-step approach for difficult conversations.
  Apply the guidelines for breaking 'bad' news.
  Describe a strengths-based approach to opening questions.
  Outline conversational strategies that empower consumers.
  Explain approaches to managing and overcoming negative reactions.
  Describe techniques for transforming difficult conversations into positive outcomes.