When:
October 19, 2022 @ 1:00 pm – 4:00 pm
2022-10-19T13:00:00+11:00
2022-10-19T16:00:00+11:00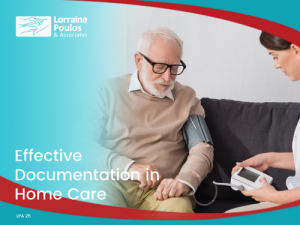 Overview
In this webinar, you will come away with a clear understanding of how and when to document for quality of care, meet your legal responsibilities and your organisation meets its compliance responsibilities. You will have the consistency of practice within your team.
You will come away from this webinar with a solid knowledge base and practical skills in the documentation. You will know what type of documentation style is acceptable and what should be avoided. This course has been revised and updated for 2022 to reflect contemporary practice and information specific to Care Managers RNs and EN's.
By the end of this webinar course, you will be able to:
  Describe legislative and legal considerations regarding documentation in-home care.
  Outline the regulatory requirements regarding documentation (Aged Care Quality Standards and NDIS Practice Standards).
  Describe the principles of effective documentation.
  Select and apply the key recognised documentation methodology ISBAR, SOAP & DAP for documentation.
  Describe the style of documentation required for the Aged Care Quality Standards in relation to referrals, reporting, mutual obligation and other purposes.
  Develop outcome-based documentation that supports consumer choice, independence and quality of life.
  More…