When:
September 23, 2021 @ 1:00 pm – September 30, 2021 @ 4:00 pm
2021-09-23T13:00:00+10:00
2021-09-30T16:00:00+10:00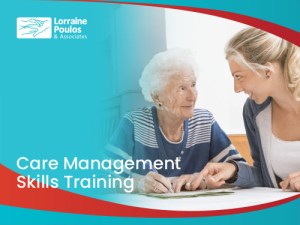 Professional 'case/care management' should result in consumers to be able to manage their own lives as much as possible and, with professional support not have a provider 'take over'. It is a targeted, community-based and pro-active approach to care that involves assessment, care planning, monitoring and care co-ordination. Where a professional case/care management approach is effectively implemented, it has improved the experiences of consumers/clients by supporting better care outcomes and improved quality of life.
Learn Care/Case Management in six key modules?
Modules include assessment, care planning, goal setting, case conferencing, documentation; monitoring of consumer changes. The training includes competency testing via an interactive learning style. The training has been modified for the home care environment to ensure practical examples of how learning can be translated into practice.
How does this course align with national competencies?
If you wish to pursue a qualification from a Registered Training Organisation, this course may be offered as recognition of prior learning. This course is aligned to the following units of competence:
CHCCS004 ASSESS CO-EXISTING NEEDS
CHCCSM004 COORDINATE COMPLEX CASE REQUIREMENTS
CHCCM005 DEVELOP, FACILITATE AND REVIEW ALL ASPECTS OF CASE MANAGEMENT