When:
November 8, 2022 @ 1:00 pm – 4:00 pm
2022-11-08T13:00:00+11:00
2022-11-08T16:00:00+11:00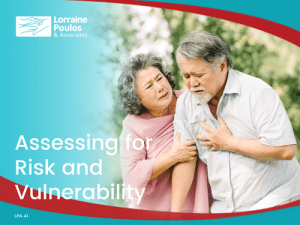 Overview
Some consumers are at greater risk when they remain at home and require much greater oversight by providers. In September 2020, the Aged Care Quality and Safety Commission issued guidance regarding vulnerable consumers who may be at risk.
This requires providers to have specific measures in place to identify and monitor these vulnerable consumers. This webinar will equip you with the skills and knowledge to effectively manage care and services for consumers who are at-risk or vulnerable for other reasons.
By the end of this webinar course, you will be able to:
  Explain regulations and guidance regarding the protection of vulnerable consumers.
  Undertake clinical assessment for vulnerable consumers.
  Identify and manage deteriorating conditions in vulnerable consumers.
  Determine intolerable risk and assessment of decision-making capability.
  Identify internal and external risk factors.
  Equipping the workforce for at-risk and vulnerable consumers.
  Conduct screening for indicators and 'Red Flags' that could indicate suspicion of abuse or neglect.