The aged care provider peak body and sector unions have welcomed the Federal Government's submission this week to the Fair Work Commission work value case.
The Commonwealth agrees the work value of aged care workers is "significantly higher" than the current awards reflect and supports a minimum wage increase and funding it, according to its submission lodged on 8 August.
Instigated by the Health Services Union in November 2020, before being backed by the Australian Nursing & Midwifery Federation and United Workers Union, the FWC case calls for a 25 per cent wage increase for all staff working in aged care – including nurses, personal care workers, activities officers and catering, cleaning and administration staff, plus social, community, home care and disability workers.
Aged & Community Care Providers Association interim CEO Paul Sadler said the submission – which does not nominate the size of the pay rise – nevertheless reaffirms the government's election commitment to fully fund the outcome of the case.
"We are pleased that the government supports a staged implementation of any wage increase, which would be determined by the Fair Work Commission consulting with the parties to the case," said Mr Sadler in a statement. "ACCPA supports higher wages and improved working conditions for aged care staff working across the sector."
Appearing before the full panel of the FWC earlier this year, aged care staff described an over-stretched workforce coping with a sector in crisis.
Frailer residents with complex nursing needs, a greater prevalence of mental health issues, increased documentation and a higher reliance on technological skills, and acute staff shortages were just some of the grievances aired by workers. Conditions have been allowed to get so bad that workers have been leaving the industry in droves, resulting in an staff shortfall of 35,000 per year.
Speaking to Sky News on Monday, Minister for Aged Care Anika Wells said: "When the number one issue that everybody wants to talk to me about in aged care is workforce shortages we need to do something to value aged care workers better, and that starts with a pay rise."
"A decent pay rise is beyond overdue."
Arguing the work of aged care has become far more complex over recent years, Health Services Union national president Gerard Hayes said the government's support was a crucial step change.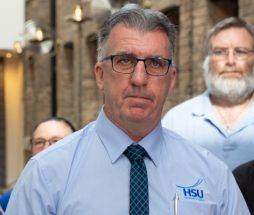 "After a decade of neglect the new government's recognition of the aged care workforce is a shot in the arm. For too long, Australia has allowed a mostly female, insecurely employed workforce to be exploited and overworked," said Mr Hayes.
"We are hopeful the Fair Work Commission will make a decision that recognises the work value of aged care. A decent pay rise is beyond overdue."
Submission 'recognises importance' of royal commission recommendation
A wage increase was one of the 148 recommendations to feature in the aged care royal commission's final report. The commission recommended the Australian Government collaborate with employers and employee organisations to seek to modify award wages to better reflect the work value of aged care staff.
"The Commonwealth recognises the importance of this recommendation and makes this submission as part of its commitment to implement aged care reforms," reads the government's application to the FWC. "The Commonwealth supports a minimum wage increase for aged care workers. The Commonwealth submits that the work value of aged care workers is significantly higher than the modern awards currently reflect."
The submission continues: "The Commonwealth will provide funding to support any increases to award wages made by the commission in this matter and that will help deliver a higher standard of care for older Australians. The Commonwealth would also welcome an opportunity to work with the commission and the parties regarding the timing of implementation of any increases, taking into account the different funding mechanisms that support the payment of aged care workers' wages."
ANMF federal secretary Annie Butler said the Labor Government's submission recognises that the work of aged care nurses and carer workers continues to be undervalued.
"We welcome the government's agreement that the current award rates do not adequately reflect the value of aged care workers, particularly in light of their extraordinary efforts over the last 30 months of the Covid pandemic," said Ms Butler.
"The government's support for a wage increase for nurses and workers will create the opportunity for well-paid jobs and provide a platform for nurses and care workers to be recruited and retained in the under-resourced aged care sector," she added.
A future in aged care
Supporting a "significant, meaningful" pay rise for aged care workers will help restore a functioning aged care sector, said United Workers Union aged care director Carolyn Smith.
"The Federal Government's submission to the work value case is a significant step to address the continuing crisis in aged care, and the commitment to fund any recommended pay rise is welcome," said Ms Smith.
Monday's FWC submission follows the passing through parliament last week of major aged care reforms. Both of which "offer aged care workers hope after years of neglect," said Ms Smith.
Ms Smith hopes the government's commitment to fixing the aged care sector will stop staff rushing out the door. "If aged care workers see their work is valued, if they see that they have enough time to care for residents, and they no longer have to exhaust themselves covering endless understaffing, then they will see a future in aged care."
"Aged care workers across the country will be applauding this news."
In response to the government's submission, Anglicare Australia said its pledge to fund pay increases for aged care workers is good news for staff, the aged care sector generally and for older people.
"Everyone deserves quality care as they get older. The only way to deliver that care is with a strong workforce. A strong workforce is well trained and skilled. It is made up of people dedicated to their role and who are paid enough to ensure they don't need a second job. Wages must reflect this," said executive director Kasy Chambers.
"That is why the government's support for a pay increase is so important," Ms Chambers added. "Aged care workers across the country will be applauding this news."
Comment on the story below. Follow Community Care Review on Facebook, Twitter and LinkedIn and sign up to our newsletter.