Access to home care has been identified as one of the systemic failures of aged care in final submissions to the royal commission.
The Royal Commission into Aged Care Quality and Safety sat for the last time last week before it hands down its report next February.
In their final submission to Commissioners Tony Pagone and Lynelle Briggs, Counsel Assisting Peter Rozen QC and Peter Gray QC included home care among the top three "noteworthy and prolonged systemic failures," in aged care, along with funding and restrictive practices.
They pointed to a lack of home care packages, an inadequately funded program and unacceptable waiting lists, as well as a lack of accountability in the home care sector.
"The regulatory gaze in home care is not as strong as it needs to be," they submitted.
They called for the more than 100,000 Australians waiting for home care to receive their allocated package by the end of next year, and to set a one-month limit on waiting times for all new entrants by mid 2024.
"Without access to services, people face and many have suffered, declining function, preventable hospitalisation, carer burnout, premature entry to residential aged care, and death," they said.
Industry peak Leading Aged Services Australia (LASA) said it supported the principle of a zero-wait list by 2022, CEO Sean Rooney said this would place a burden on providers.
"Clearing the HCP wait list by almost doubling the current number of packages across the next 12 months will place significant pressures on workforce recruitment, retention and the management of home care providers," he said in a statement.
"Not only will there be additional Government costs but keeping up the levels of quality care will be critical and this will need to be accounted for."
Counsel Assisting's proposed recommendations at a glance:
Allocate a package to everyone on the waiting list by December 2021
Reduce wait list to one month by July 2024
No new level 5 HCP
Make highest level of home care funding equal to residential care
Integration of HCP and CHSP as part of a single aged care program including residential, respite and short-term restorative care
Introduction of 'care at home' as a grant-funded service category, along with social supports, respite and AT and home modification
Pay rise for home care staff
Repeal consumer contribution and replace with nominal co-payment
Transition to payment in arrears system of funding
Blitz on waiting lists
Their submission includes a recommendation to clear the existing waiting list by 2021 by immediately increasing home care packages and capping the wait time for new packages at one month by 2024.
They say the announcement earlier this year of funding for 16,105 additional Home Care Packages in response to the Interim Report is insufficient and only a minimal change to previously announced packages.
"The more recent announcement in the October budget of a further 23,000 packages is welcome but we note that few of those are high level packages particularly level 4," they add.
Counsel acknowledge that the Legislated Review of Aged Care 2017 included a recommendation for an additional level of home care package to the existing four levels but they rejected this proposal.
"We do not submit that the Royal Commissioners should recommend the introduction of a new level of home care package," they submit.
However, the submission recommends that the highest level of funding for home care should correspond to the funding for an individual in a residential setting.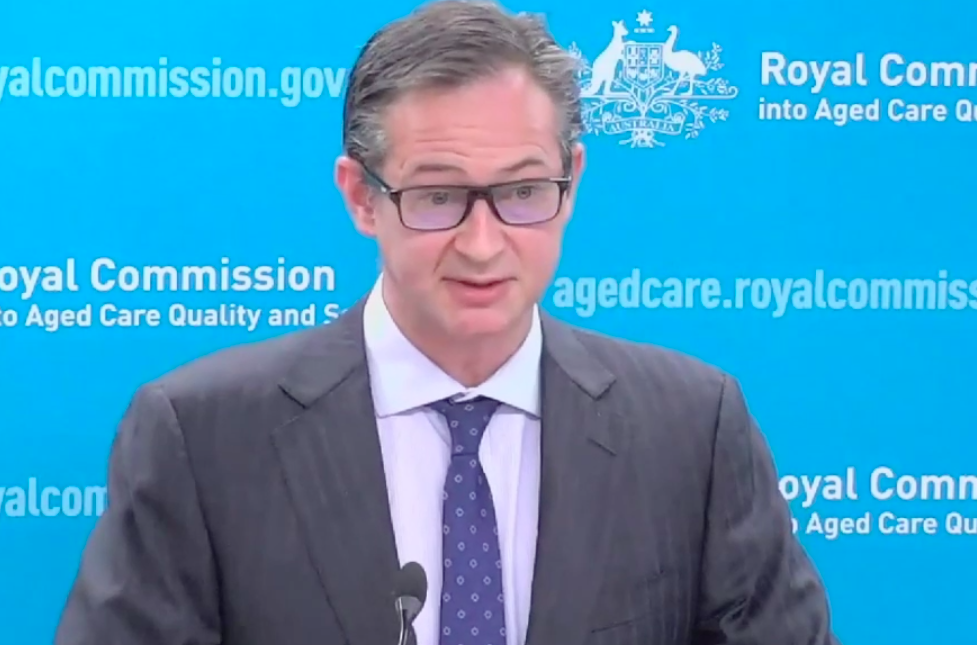 Grant funded services
They recommend that from July 2022, the government should implement grant funded categories for respite, assistive technology and home modification, and social supports. An additional and 'care at home' category should be introduced by 2024.
The care at home category would be designed to cover services to help people stay at home and could include living supports like cleaning, laundry, preparation of meals, shopping for groceries, gardening and home maintenance, as well as clinical, therapeutic and end of life care.
They also recommend the integration of CHSP and HCP as part of a new aged care program that also covers residential, respite and short term restorative care.
Funding reform
Counsel's submission backs the implementation of proposed funding reforms which will see providers paid in arrears and on invoice, rather than upfront.
The reforms, unveiled in the 2019 Budget and set to be phased in, are designed as a measure to prevent providers accumulating unspent funds, which now average $8,250 per person or $1,062 million nationally.
The transition should start from September 2021, the submission says.
It says this would not only tackle the problem of unspent funds but provide a more accountable funding system that gives the government better visibility of services delivered in the home.
As well, it's recommended that the income tested care fee, or user contribution, should be repealed and replaced with nominal co-payments.
"Individuals receiving care at home should not be required to contribute to the costs of any care services that they receive," the submission says.
"They should, however, be required to make nominal co-payments for any domestic assistance services that they receive."
More scrutiny
Regulation of home care needs to be improved, the commissioners were told.
"Measures such as mandatory quality indicators and compulsory reporting of assaults, which are themselves limited as explained above, only apply to residential aged care. They are non-existent in home care," Counsel submitted.
They suggest the Aged Care Quality and Safety Commissioner be better resourced to cover home care and that home care should be included in a new and expanded serious incident reporting scheme.
Pay rise for care workers
Careworkers should get an increase in their minimum awards to reflect the value of their work and ensure equal pay for women, Counsel submit.
They note that home care workers "face challenges that differ from those faced by their counterparts in residential aged care. They work alone, usually without supervision. They work in an environment over which they, and the approved providers who send them to work, have little control."
They also note the Royal Commission has heard that many home care workers are not adequately compensated for their travel time.
See the full list of recommendations here and the final submissions here.
Comment on the story below. Follow Community Care Review on Facebook, Twitter and LinkedIn and sign up to our newsletter.