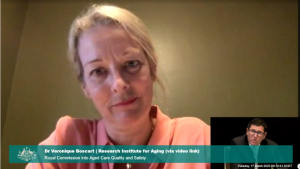 A Canadian aged care provider is focusing on staff training, upskilling and career development and a team culture to improve retention and deliver quality care, the royal commission hears this week.
On Tuesday, the Royal Commission into Aged Care Quality and Safety heard about the innovative approaches to training and development at Schlegel Villages, an aged care provider in Ontario, Canada.
In opening statements, Senior Counsel Assisting Peter Rozen said the hearing aimed to identify what's needed to address short-term staff shortages and training needs as well as what's required to ensure the workforce is adequately skilled five and 10 years from now.
Dr Veronique Boscart, director of the Schlegel Centre for Advancing Seniors Care at the Conestoga College in Ontario, told the royal commission about Schlegel Villages implementation of the in-facilty training program Living Lab.
Living Lab has been developed by Schlegel Villages, Conestoga College and the Schlegel-UW Research Institute for Aging to bring in students into the aged care environment.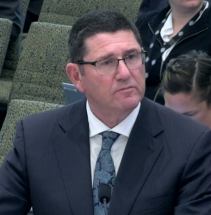 "We have two sites in which we run living classrooms, both with Schlegel Villages, and the classroom itself is within the nursing home.
"So students right away when they apply are notified that they are not coming to a regular college campus; they are going to go to school in somebody's home," Dr Boscart told the hearing via video conference.
She said they also have an integrated model of teaching, which involves staff team members and residents from the village sharing their experiences.
Dr Boscart said the program has improved students' understanding of about their role will be once they start working in the sector.
"They also feel a lot more at ease when there is a conflict between team members or a family member. They understand the workloads. They understand what a culture is on a different unit, and they just have a different way of setting priorities when they start their day," said Dr Boscart, a researcher at the Research Institute for Aging.
"They are just better prepared to step into that field, and then hopefully to remain in that field," she said.
Improving retention
Dr Boscart also told the royal commission that Schlegel Villages talks to their personal care workers about their career options to improve retention.
"We are preparing somebody for a career in our organisation, and that means that there might be different components in which a person will grow.
"[D]epending on where they want to go, they can take a leadership course or they can participate in training of students or different components," Dr Boscart said.
She said the provider also promotes a teamwork culture, where if someone is struggling and needs help, another staff member provides assistance.
The focus is on optimising teams, rather than individual workers, Dr Boscart said.
"What we have done in our neighbourhood team development and the research around quality is if you invest in a team, which is a costly investment from an organisational perspective, this leads to better care, therefore it does lead to better care outcomes," she said.
"It needs to be a team approach… there is no secret to having good quality care outcomes. The answer is investment in staff."
The next Royal Commission into Aged Care Quality and Safety hearing takes place on 30 March – 1 April in Adelaide. It is looking at how to improve access to mental, oral and allied health services in aged care.
Comment below to have your say on this story
Subscribe to Australian Ageing Agenda magazine and sign up to the AAA newsletter