McLean Care, BaptistCare and IRT Group are among the winners at this week's national aged care awards.
The ITAC 2020 Conference Awards, which honoured organisations for innovative approaches and ICT solutions focused on improving the lives of aged and disability care recipients, were announced in Brisbane on Tuesday evening.
New South Wales regional aged care provider McLean Care was awarded the best solution that provides ongoing consumer independence and the overall winner.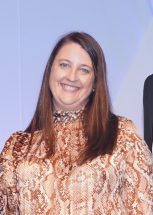 The award recognises McLean Care's implementation of driving simulator Hector VR, which allows older people to drive a virtual vehicle through their local community (read our stories here and here).
The project was undertaken with Deakin University.
McLean Care project manager Alicia Eugene said it was an honour to receive both awards.
"We're completely honoured and privileged amongst an accomplished field of finalists. We feel privileged and we also feel it's a testament to the people who worked with us," Ms Eugene told Australian Ageing Agenda at the event.
She said Hector VR helped provide older people independence for as long as possible.
"We know that when people give up driving, particularly in regional areas where there are no public transport options, they lose all of their independence," Ms Eugene said.
New South Wales and ACT aged care and retirement living provider BaptistCare won the best solution that integrates across multiple platforms and the different stages of clients' time with a provider.
BaptistCare's Digitally Integrated Aged Care Business platform is a suite of technology solutions integrated together to form a digital aged care journey.
The suite includes a web application that engages consumers at the start of their aged care journey, a customer relationship and client management system, a scheduling and rostering tool and a business intelligence tool to provide analytics on all solutions.
Fellow NSW aged care and retirement living provider IRT Group picked up best innovative development for its Driverless Shuttle Service.
Residents at IRT Kangara Waters retirement village can board the driverless car to attend appointments or social activities in the village.
The Registry of Senior Australians won the best application of business intelligence to leverage value from big data.
The award recognises ROSA's data platform that integrates big data from the health and aged care sectors to provide better outcomes for aged care residents.
Scheduling and mobile workforce management organisation Skedulo won best solution that manages client and worker interaction.
The platform helps organisations schedule, dispatch and track resources in the field.
It also connects teams in an organisation together, such as the operations team with frontline workers.
Queensland aged care provider Ozcare picked up the best workforce efficiency or quality improvement solution for its autonomous mobile robot implementation.
The robot aims to reduce manual labour among staff such as pushing meal, laundry and waste trolleys around the facility.
Brisbane disability service provider Endeavour Foundation won the meritorious development award.
Endeavour Foundation Connect is a mobile application to connect families and carers connected and provide information related to the care a loved one is receiving.
Procura and CarePage jointly won the best software development and deployment.
Procura won for its clinical care solution that integrates pain assessment technology PainChek to improve the outcomes of Enliven Peacehaven residents.
CarePage won for the roll-out of its real-time customer experience technology across Allity Aged Care homes.
ITAC 2020 Conference takes place at the Royal ICC Brisbane on 3-4 March.
Read more from the ITAC 2020 conference
Tech council joins research-industry collaboration
Addressing community care's technology pain points
Silos blamed for inefficient aged care ICT
Comment below to have your say on this story
Subscribe to Australian Ageing Agenda magazine and sign up to the AAA newsletter