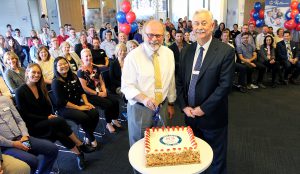 Long-serving aged care chief executive officer Richard Hearn has announced plans to retire this year after 34 years with South Australian provider Resthaven, including 26 years at the helm.

Mr Hearn joined Resthaven in 1986 as regional director and became CEO in 1994. Prior to that, he worked in the education sector.
He was awarded Aged and Community Services Australia's SA/NT Distinguished Service Award last year in recognition of his contribution to the sector.
Mr Hearn said he was proud of the Resthaven's achievements over the past three decades.
"I've been fortunate to have been a part of the growth of the organisation, working with incredibly talented and dedicated people. But as I am in my 65th year, this is the right time for me to retire from this role," Mr Hearn said.
During his tenure, Mr Hearn has overseen the organisation's expansion and diversification into community services and number of employees quadruple.
Resthaven president Mark Porter said Mr Hearn has provided the organisation with 34 years of exemplary service.
"The organisation's success and standing in the community are a testament to his leadership, faithfulness, and devotion to duty," Mr Porter said.
"Under his leadership, Resthaven has grown not only in its provision of residential and community services, but also in its reputation and standing in the community," he said.
Mr Porter said Mr Hearn's genuine concern for the elderly, his capacity to master detail and understand the changing landscape of aged care were impressive.
"With the support of skilled management, staff and volunteers, Richard has led a mission-focused organisation that is an asset to the community," he said.
Richard will leave Resthaven in a strong and commanding position to confront the challenges of the future with confidence and optimism once a suitable successor has been appointed and is in place," Mr Porter said.
Mr Hearn announced his plans to retire to program managers and head office staff at Resthaven's 85th birthday celebration on 21 February.
A national search national for a new CEO is underway, Resthaven said.
See news about other new appointments and resignations here.
Have we missed an appointment? Send us the details and an image to editorial@australianageingagenda.com.au