An award-winning home care program that delivers culturally-appropriate aged care services for Indigenous people on the NSW South Coast has won a five-month reprieve after facing closure last year.
Aboriginal-run Booraja Home Care was established as a pilot by IRT Foundation in 2017 with a $1.4 million Commonwealth grant from the Dementia and Aged Care Services Innovation Funding Round.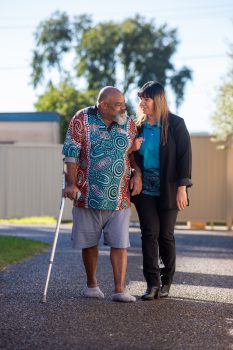 The program currently provides care for 29 Indigenous elders in the Eurobodalla region and employs seven staff.
But with funding running out the program looked like folding in December, leading IRT to appeal to the government for $1.5 million over the next three years to help it meet its self-sufficiency plan, which means increasing its client base to 100.
This week manager Bunja Smith said the program has been granted five months of funding through the Commonwealth Home Support Program.
"It's a real weight off our shoulders knowing we have gained another five months of funding to keep Booraja open and that we can keep caring for the people who have come to depend on us," Mr Smith said.
"The funding also gives us the opportunity to continue moving the program towards self-sufficiency as we serve more people in the community and employ more carers over the next five months."
IRT continues to seek further funding over the next three years.
Embedding Indigenous culture into care
Booraja means "future" in the Dhurga language. It embeds Aboriginal cultural practices and activities, including visits to sacred sites, and provides employment for locals.
Three quarters of clients receiving care from Booraja had never accessed home care before, according to IRT.
Mr Smith says he wants to expand the program to service the entire Yuin nation, which spans around 14,000 square kilometres along the South Coast, and provide home care to Aboriginal people with disabilities through the National Disability Insurance Scheme.
IRT Foundation manager Toby Dawson, meanwile, says he would like to see the Booraja model rolled out nationally to Indigenous communities.
"Our research finds overall Aboriginal people have low participation rates in the current mainstream model of home care," Mr Dawson said.
"Booraja rethinks the existing approach by recognising how important kinship and culture are to Aboriginal people and aims to provide appropriate home care that enables older Aboriginal people to stay connected to kin and country."
Booraja won the Realising Wellness and Re-Ablement Award at last year's innovAGEING National Awards and took out a gong in the Supporting Independence Category at the 2019 Future of Ageing Awards.
Subscribe to Community Care Review