Disability advocate Carly Findlay is thrilled to have been awarded a Medal of the Order of Australia for her service to people with a disability and says she hopes to use the platform to help amplify other voices.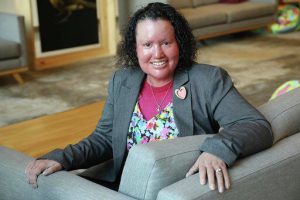 "It's a recognition of the work that I've done, but it's not just me that has done work to improve the rights of disabled people," Ms Findlay told Community Care Review.
"There's so many people that are doing work to improve the rights and representation of disabled people, so certainly I don't take this alone."
Ms Findlay, author of the memoir Say Hello, is currently editing a second book called Growing Up Disabled in Australia, which features over 40 writers and is due to be released in June.
"(It's) a really great chance for me to select people who have written amazing pieces, and perhaps some of them have already been writing for a while," she said.
"For other people, it might be the start of their writing career, and this is a really exciting opportunity as part of my work to do that."
As an advocate for people with disabilities, Ms Findlay has been active on social media, using the platform to connect with others who have ichthyosis, the rare genetic skin disorder that she is living with.
She has also used social media to give voice to the wider disability community and learn about other disabilities.
"It's very much around representation, making sure that other people like us know that there are people like them around and out there," Ms Findlay said.
"And I have a huge community of people with ichthyosis and it's great to find those people on social media."
Defying expectations
Ms Findlay says one of her proudest achievements has been to defy the expectations society has of people with disability.
"(Such as) succeeding even when people thought that I couldn't, because people have very low expectations of disabled people," she said.
But she says people with disabilities still face many challenges, including discrimination.
"I, for example, have a really hard time catching a taxi because the drivers think that my face will ruin their cars somehow," she said.
Ms Findlay is hopeful that the Disability Royal Commission and the full rollout of the NDIS this year will represent a step forward for people with disability.
"I think it is very important for people working in the NDIS to realise how much disabled people want to live ordinary and extraordinary lives, and to make it as easy as possible to do that," she said.
However, she says she would like to have seen disabled people better represented at the Royal Commission.
"I feel like disabled people haven't been given a chance to speak much about it, so that's been really disappointing. I think there's still a long way to go with including disabled voices," she said.
Aside from her book Growing Up Disabled in Australia, Ms Findlay is also working on a podcast with Arts Access Victoria, which will feature conversations with disabled women leaders in the community, and other writing projects.
Read about honours in the ageing sector here.
A full list of Australia Day Honour recipients can be viewed here.
Subscribe to Community Care Review