Aged Care Royal Commissioner Lynelle Briggs has praised the "extraordinary" resilience of a woman who gave a heartbreaking account of her desperate attempt to care for her husband after his diagnosis with dementia.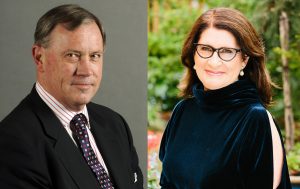 Victorian woman Rosemary Jean Cameron met her future husband Don at the age of 12 and the "inseparable" couple later shared many years of happy marriage, as well as children and grandchildren.
Ms Cameron first noticed something amiss with Don, a mechanical and structural engineer with a zest for life and a love of history and dancing, in 2006, when her usually sharp-witted husband began having trouble with decision making.
It wasn't until seven years later that he was diagnosed with dementia with Lewy bodies, a form of dementia associated with hallucinations, paranoia, aggression, anxiety and incompatibility with certain medications.
Ms Cameron retired from her work and was determined to care for Don even as his behaviour became more and more challenging.
He had become completely dependent on her and often became agitated and convinced she was an "enemy" trying to murder his wife.
She was soon forced to lock the doors to prevent Don running away and at times he became violent, throwing her against walls and attempting to strangle her.
In 2013 Don was assessed by an ACTAT team and approved for a high level home care package. Two years later Ms Cameron was still waiting for the package to be assigned.
Isolated and exhausted
Increasingly exhausted, isolated and desperate, Ms Cameron applied for respite care in 2014. But after four months on a waiting list the facility called to say they were unable to deal with his behaviour, and she brought him back home.
The months and years that followed saw Don shuffled around between the aged care system, the health system and the mental health system, sometimes treated "like he had leprosy".
Ms Cameron described his short stay at a mental health facility, where she found him knocked out, unshaven, smelly, incoherent and heavily sedated, as "horrific". One day she found him face down on the floor, so heavily sedated he'd fallen out of his chair.
Another attempt at respite was followed by another call from a nurse who said Don was "totally out of control" and that she would have to pick him up or they would call the police.
When Ms Cameron arrived she found him dripping with blood from a gash in his hand and discovered he had worked himself up after being locked in his room all night.
Taking Don back home from yet another respite stay some weeks later, Ms Cameron hit her lowest point.
"I just remember feeling so extremely sad for to Don to be rejected when he needed help the most," she said.
"I hopped into the car and I thought I can't rely on anybody. I was so exhausted and I thought I'm failing him as well. I cried all the way home silently so Don couldn't see and I just thought maybe I should end it for both of us."
But she was able to "slap myself around the face" and pick herself up and get back into her carer's role.
She secured some home assistance from a companion who spent time with Don, but that was later withdrawn because he was deemed unsafe for the worker.
'I wasn't going to let it defeat me'
The final straw came in 2015 after Don was discharged from yet another failed respite attempt. He came home extremely agitated. He began climbing furniture, shredding things and attacking Ms Cameron and their daughter, who was forced to restrain him and call triple-zero.
After another bout of hospitalisation and another stint in a mental health facility, in April 2016 Don was transferred to a specialised dementia facility where he remains today. Ms Cameron says his medication has been adjusted and his behaviour has become more peaceful, and she continues to see him every second day.
"I wasn't going to let it defeat me, and for the person you love, you just don't give up," she told the commission. "You think that tomorrow might be better and you just keep going."
Ms Briggs described Ms Cameron's story as incredibly distressing.
"The resilience you must have required within yourself … is extraordinary," she said.
Commissioner Richard Tracey thanked Ms Cameron for sharing her "long and difficulty and selfless journey".
"It's so important that we understand the difficulties that are being faced by families on a daily basis and you have certainly provided us with a very good example of how the system can fail people," he said.
Subscribe to Community Care Review