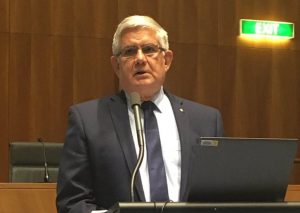 The rollout of 10,000 new home care packages flagged in December will begin this week, the federal government says.
The additional high-care packages were announced in the government's December 18 mid-year economic statement, which included $553 million worth of aged care funding.
However the rollout comes as a key financial report warned that 2019 is shaping up to be another tough year for aged care providers.
All of the 5,000 level three and 5,000 level four packages, representing $50,000 per person, will be allocated on a priority basis by the end of June, Minister for Senior Australians and Aged Care Ken Wyatt said in a statement on Tuesday.
Meanwhile, the 70,000 people who are currently on level one, two and three home care packages will also have fees reduced this year, Mr Wyatt said, another measure contained in the budget outlook.
The maximum daily contribution that providers can charge clients will drop by $400 a year for level one packages, $200 a year for level two and $100 a year for level three from July 1, a health department spokesman said, with the government providing $56 million to cover the shortfall.
A spokesman for Mr Wyatt told Community Care Review that the reduction in fees would also apply to people who had been assigned a higher package but were receiving a lower level of interim care while they waited.
Financial difficulties to continue for aged care providers
In its latest aged care financial performance survey for the September 2018 quarter analysts StewartBrown said it was evident that many providers in both home and residential care continued to face financial difficulties.
"The signs are that 2019 will be another challenging year financially for providers of aged care services," it said.
However the report said the release of the 10,000 new high care packages would provide some additional income to providers and a degree of relief to consumers who have been stuck in the national queue.
The survey found an average decline in HCP provider results since the same period a year ago.
Unspent funds were now at $6,720 per package thanks to a combination of low revenue use and increased funding.
The report said unit prices of between $10 and $20 an hour may be necessary to cover administration costs once the new pricing transparency regime begins in May, when admin fees are likely to be rolled into service fees.
Dementia Australia has welcomed the rollout, saying it would help more people living with dementia to remain in their homes.
"Currently, around 70 per cent of the more than 436,000 Australians with dementia live in the community,"CEO Maree McCabe said in a statement.
"An increase of home care packages will help more Australians to live at home for as long as possible, in a supported way. This will make a substantial difference not only to their lives, but also to those of their families and carers, as well as the broader community,"
Read more:
10,000 home care packaged funded in aged care boost
MYEFO measures unlikely to ease pain for providers
Subscribe to Community Care Review