A book on dementia which was co-authored by a person who has been living with the condition for twelve years has been named the Australasian Journal on Ageing book of the year.
Co-author Associate Professor Colm Cunningham, who directs the HammondCare Dementia Centre, accepted the award for My Home my Life at the AAG conference in Melbourne on Thursday night.
The book brings together the voices of people with dementia and their carers and families, underpinned by current research, as a resource to help those living with the condition to remain at home and engaged with their community.
Sharing stories from real life
Prof Cunningham says the idea for the book came about after he heard a story from a carer whose husband had well-intentionally fed a casserole she had cooked to the family dog.
That incident led the couple to sit down plan how they would work together to insure such an incident didn't happen again.
"She said, 'I wish somebody would have shared these sorts of stories with me'," Professor Cunningham told Community Care Review on Friday.
"It occurred to me that we've got to create a way of sharing all the tips that we get the privilege to hear, but anchor them in evidence."
What resulted was a book full of practical tips to enable people with dementia to remain at home as long as possible.
He says it was originally aimed at people with dementia and their carers but since being published it was also attracting a lot of interest from the aged care sector.
"This is a very practical, down-to-earth, plain-English addition to the dementia literature," he said.
Giving people with dementia a voice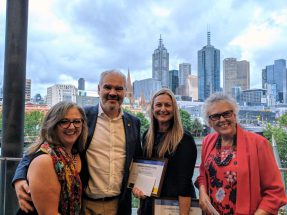 What makes the book unique is the contribution of Agnes Houston, Vice Chair of the European Dementia Working Group, who was diagnosed with younger onset Alzheimer's disease in 2006 at the age of 57.
"It brought into play a new dynamic which was that we would write the sections and Agnes would review then with someone else, so that she didn't get any of our influence about what she felt we wanted to say," Prof Cunningham said.
He says while there's still a long way to go to make sure the voices of older people with dementia are heard, Ms Houston's involvement in the book reflects a shift towards people with dementia having more of a say in the way the wider community constructs and thinks about the condition.
You can read more about My Home my Life here.
To purchase the book or contribute personal stories go here.
Subscribe to Community Care Review