A home care provider has come up with a solution for families who are unable to find respite for their loved ones during the holiday season by offering a bespoke Christmas at Home service.
Cranbrook at Home, Cranbrook Care's new private home care service, is offering in-home care combined with activities and entertainment at one of Cranbrook Care's residential facilities during the day for people living around Sydney's lower north shore.
CEO Kerry Mann says the concept behind Christmas at Home is to provide care and companionship for older people over the festive season while giving family members peace of mind during holidays away.
It also bridges the lack of respite care that often occurs around the festive season when demand spikes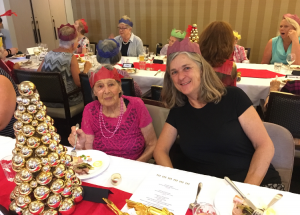 "We have a lot of families looking for respite over that period of time and fortunately we don't have a lot of vacancies," she told  Community Care Review.
"Respite care for families is really hard to find, so we thought the best thing for them is to offer an at-home service.
"That gives the families some peace of mind over the holiday period when a lot of people go away aren't able to take their loved ones who are aged with them."
Value adding
Mann says the initiative also gives Cranbrook at Home a way of value-adding what it can offer clients by providing services across its home care and residential operations.
As well as getting care and domestic help at at home, clients can attend lifestyle and leisure events at the Lansdowne Gardens aged care residence in Neutral Bay.
By visiting the residence, Christmas at Home clients also get to meet whole new community, she says.
"You can actually bring the clients to our residents and they can start to be part of a different community," she says.
Ms Mann says while this is the first time Cranbrook at Home has offered a bespoke service of this kind, she can see opportunities in other areas, such as bringing people home from hospital.
"And before you bring them home from hospital, going into their home, turning the air conditioning on, making sure they've got milk and tea and coffee and bread, all the staples.
"A lot of these things, when families are time poor, or they might be overseas,  these are things that can't be done and they're the little things that make a difference."
Subscribe to Community Care Review