The former head of the Aged Care Workforce Taskforce, Professor John Pollaers, has been appointed Chancellor of Swinburne University of Technology.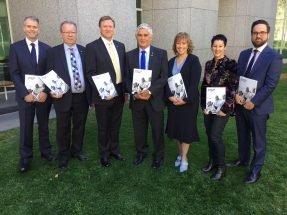 Professor Pollaers will take up the five-year post from February 1, replacing Graham Goldsmith.
In September 2017 Professor Pollaers was tasked with developing a vision and a blueprint to grow and sustain the aged care workforce to meet the current and future needs of Australia's ageing population.
During that time he showed himself to be a passionate advocate of the rights of ageing Australians and champion for those who cared for them, and their battle for recognition and respect.
His report, A Matter of care – a strategy for Australia's aged care workforce, was handed down on September 13.
The report called for a tripling of the aged care workforce over the next three decades, a social campaign to counter negative attitudes towards aged care workers and a voluntary code of practice.
Recently, Professor Pollaers was outspoken about the royal commission into aged care, saying the inquiry's 18 month time frame was "too long to wait".
He currently chairs the Australian Advanced Manufacturing Council and the Australian Industry and Skills Committee.
His appointment was announced to Swinburne staff on Wednesday by Mr Goldsmith, who said Professor Pollaers brought significant experience from across the public and private sectors.
The appointment has been welcomed by Minister for Senior Australians and Aged Care Ken Wyatt.
"Congratulations John Pollaers – the next chancellor of Swinburne University of Technology," he said on Twitter.
Read about Professor John Pollaers' aged care workforce report here.
Have we missed an appointment or resignation? Send us the details and an image to editorial@australianageingagenda.com.au
Subscribe to Community Care Review