Legislation establishing new quality standards applying to all aged care providers has passed Parliament.
The Aged Care (Single Quality Framework) Reform Bill 2018, which cleared federal parliament on Monday night, represents the first upgrade of aged care standards in 20 years, Minister for Senior Australians and Aged Care Ken Wyatt said.
The changes affect Australia's 2700 aged care providers and 366,000 staff.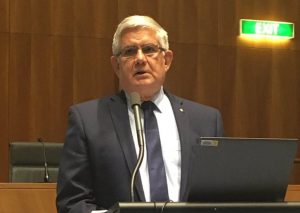 Mr Wyatt said together with the new independent Aged Care Safety and Quality Commission which comes into force on 1 January and the Aged Care Workforce Strategy, the quality standards herald "a new era in certainty and confidence in Australian aged care".
"Under the draft new regulations, aged care providers' governing bodies and boards will be legally accountable for safety and quality," Mr Wyatt said in a statement.
"The focus will be on client care, with providers having to prove their care and services are safe, effective and customer-centred."
Leading Age Services Australia (LASA) welcomed the passage of the standards.
"The new standards deliver a single approach to quality assessment across the different aged care settings including residential care and home care," CEO Sean Rooney said in a statement.
"The single Framework will both streamline assessment of the performance of providers against these new standards as well as improve the information about quality and safety that is available to consumers.
"LASA supports the new Aged Care Quality Standards on the basis that these standards reflect current evidence on how best to deliver quality care, support, services and accommodation for our older Australians."
The new benchmarks bring together what were previously four separate sets of standards covering residential care, home care, Aboriginal flexible care and transition care standards.
Care providers will undergo a transition period between now and July 2019 with  $50 million to help them adapt.
Elements of the draft Aged Care Quality Standards
Client dignity and choice
Ongoing assessment and planning of personal and clinical care
Services and supports for daily living
The service environment
Feedback and complaints
Human resources
Governance
Each of the draft standards includes
A statement of outcome for the client
A statement of expectation for the organisation
Requirements to demonstrate that the standard has been met.
You can read our previous stories about the standards here and here .
For more information on the legislation go here.
Subscribe to Community Care Review